Take the Building and Testing of Fluid System Assemblies Off Your To-Do List
If you're short on manpower, Swagelok Sweden can provide an extra set of hands by fabricating your fluid system assemblies for you. We produce a professional, repeatable solution, with testing, inspection, and packaging included—all covered by Swagelok's Limited Lifetime Warranty.
We call these assemblies Swagelok® Custom Solutions. Custom Solutions can be small or large assemblies, consisting of a few components or a complete panel or enclosure. They are built with Swagelok's own high-quality fluid system components, but we can also incorporate wiring, automation, transmitters, relays, pumps, and more. Whatever your parameters, you can be sure that you'll receive only the highest-quality assemblies, panels, or enclosures from Swagelok Sweden.
REQUEST MORE INFORMATION ABOUT DESIGN AND ASSEMBLY SERVICES
Save Time With Standard and Configurable Assemblies
Swagelok design, fabrication, and assembly experts have worked with businesses across the globe to add efficiency and reliability to their operations by delivering reliably designed and constructed fluid system assemblies. Standard assemblies we've developed include: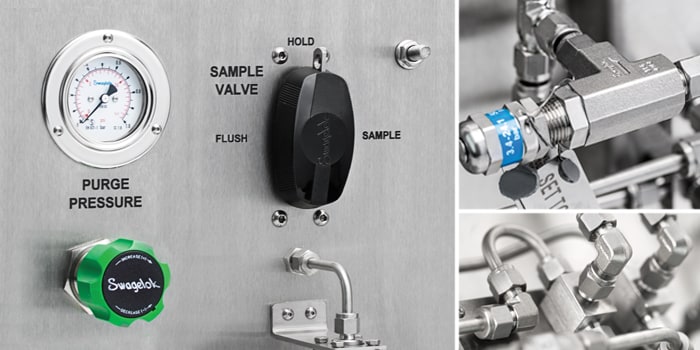 Customizing Swagelok® grab sampling systems allows for safe, efficient sample capture while meeting your specific plant application needs. The panels are available in a variety of configurations and advanced features.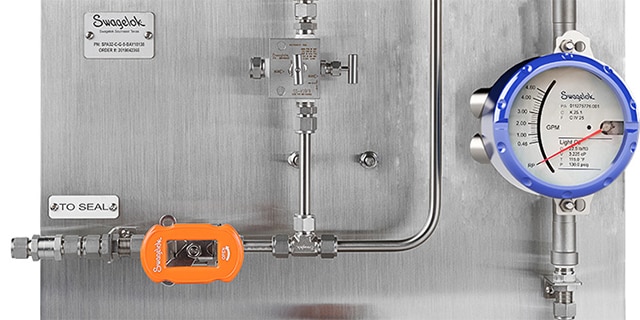 Swagelok® seal support systems are guided by API 682 and are offered as kits and assemblies. These systems reliably supply either gas or liquid to the mechanical seal to regulate the environment in which the seal operates, increasing longevity.
We evaluate existing gas distribution systems and build standardized, configurable gas delivery systems to help protect system operators, increase process uptime, and improve process accuracy and repeatability.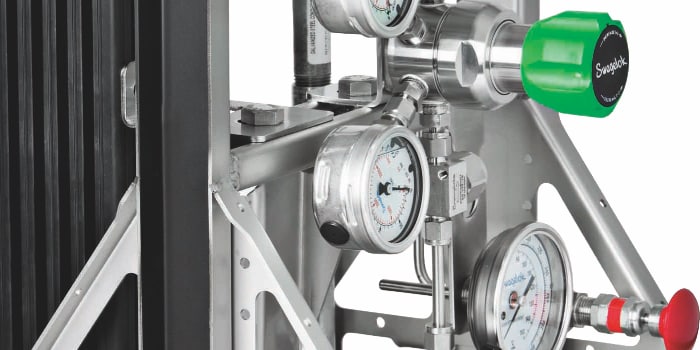 Pre-engineered and preassembled fluid sampling and control subsystems, such as fast loops, field stations, calibration and switching modules, sample probes, and fluid distribution headers, bring efficiency and consistency to your operations. Swagelok® pre-engineered subsystems (PrESS) minimize system footprints, simplify system design, and promote representative samples and accurate analytical results.
Receive as Much Design Support as You Need
Our fluid system design experts are prepared to assist throughout the solution development process. We can follow your existing design, or you can work with our tech center to develop a new or revised one. In any case, our approach is collaborative, as we work closely with you to ensure we understand the problem and are developing the configuration that most completely meets your needs.
Whether you have a preliminary drawing or just the glimmer of an idea, it's not too early to consult with our fluid system experts to receive:
CAD drawings
Piping and instrumentation design (P&ID)
Component selection and sourcing
Bills of materials (BOM)
Professional services, such as bending and welding
Testing of system performance
Professional packaging and delivery
You trust our components. Now trust our experts to create great fluid system assemblies.
Please contact Custom Solutions Project Manager Eric Björklund for help and advice or call +46 70-648 13 44.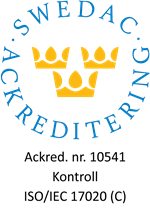 SVAFAB Stockholm Valve & Fitting Aktiebolag (organisationsnummer 556181-1877) har av Swedac ackrediterats som kontrollorgan "C" för Trycksättning med gas omfattande provning med över- eller undertryck.