We have strict requirements because our customers have strict requirements.
Since 2009, Swagelok Sweden has been Swagelok Quality System (SQS) certified and we are ISO 9001:2015 certified.
We are registered by Achilles Utilities and have Inspecta Nuclear Type Inspection Certificate No. 5936 on thousands of components.
Furthermore, our three-day tube fitting installation and maintenance training, Swagelok-skolan, is reviewed by Inspecta.
Swagelok ISO 14001:2015
Swagelok operates an Environmental Management System which complies with the requirements of ISO 14001:2015.
Swagelok ISO 45001:2018
Swagelok has been audited and certified as meeting the full requirements of ISO 45001:2018
Copy of ISO 45001:2018 certificate
You can find the Swagelok Supplier Code of Ethics here.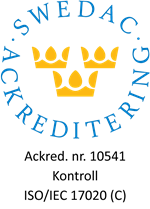 SVAFAB Stockholm Valve & Fitting Aktiebolag (organisationsnummer 556181-1877) har av Swedac ackrediterats som kontrollorgan "C" för Trycksättning med gas omfattande provning med över- eller undertryck.